It was just a few years ago that I only knew about three other people who knit and lived with Basenjis. I know of so many more now, which is why I've decided to go ahead and make this pattern available.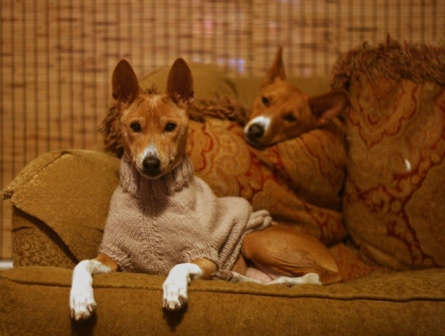 This is Ike's Collegiate Sweater. It is 100% wool, and made to fit the unique curves of a Basenji. Free Ravelry Download.
I recommend this pattern for experienced knitters only. Because each dog is shaped differently (and there are no standard sizing charts for this!), you will need to be able to follow the sizing notes and knit this to fit your dog.
Here is a photo of the underside of the sweater…

Doesn't it look like this horn player from Star Wars???

Crazy.