I'm TRYING to write a post, but my reason for posting is making it very difficult! Let me explain.
Meet Whiskey River. He's a 4 month-old Basenji puppy, and he's my new foster.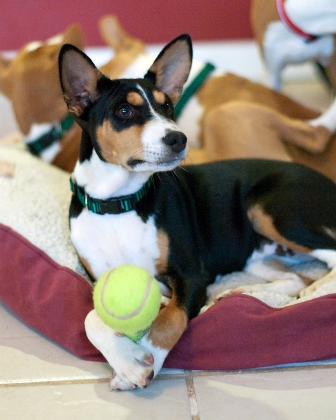 Whiskey and seven of his siblings were surrendered to Basenji Rescue last week. They've been placed in foster homes all over the state, on their way to their forever homes. (Did I mention, they need homes?)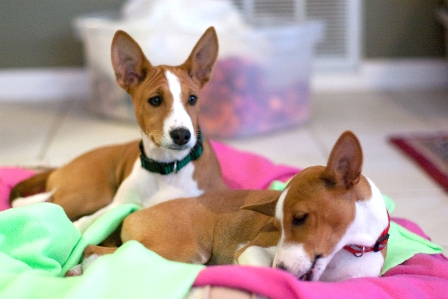 On Saturday, Wendy (a Basenji Rescue Coordinator) brought four of the pups over to my house for a visit, and so that I could pick my foster.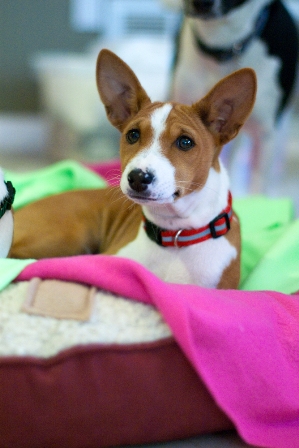 CUTE, huh? It was so much fun to see all the puppies. Ike stood back and observed, as if he was watching Animal Planet or something.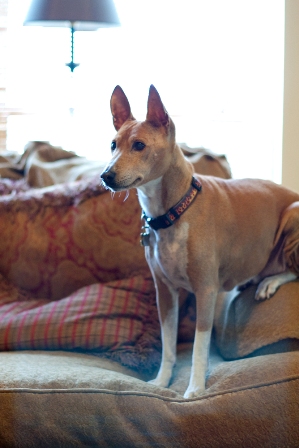 To give you an idea of how tiny these guys are, here is a shot of Whiskey next to Abe. (A "shot of Whiskey"! See that?)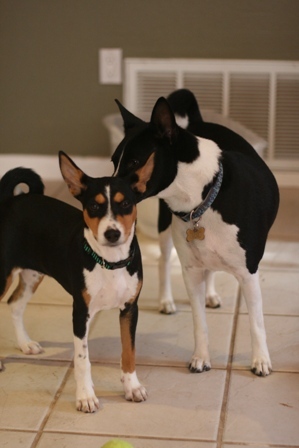 I'd like to mention that all of the *good* photos in this post were taken by my friend Stephanie. This last one with Abe (the crappy one) was taken by me.
I haven't lived around a puppy this young since Ike was this age – TWELVE years ago. Here are some things I sort of forgot about puppies:
– Puppies sleep a lot.
– Puppies have sharp teeth.
– Puppies have the attention span of a housefly.
– Puppies smell really good.
– Puppies aren't as bright as adult dogs.
– Puppies will chew anything at mouth level.
– Puppies get lonesome if they can't see you.
– Puppies are totally worth it.
As I'm typing this, Whiskey is asleep on my lap. I didn't pick him as a foster as much as he picked me (and Abe). He is a sweet snuggle pup, already housetrained (with just one accident), and non-destructive. I feel lucky to be a part of this little man's life on his way to his new home.