Anyone else thinking about Christmas knitting yet? You had better get on it, you know. Those gifts aren't going to knit themselves. Let me see if I can help you out.
New pattern – Yoga or Pedicure Socks.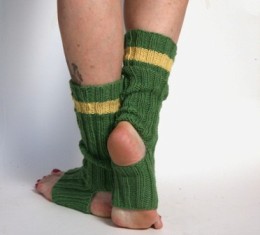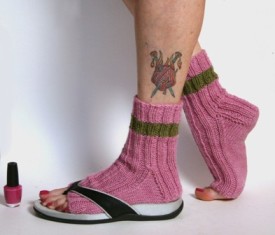 Yoga or Pedicure Socks
Flip-flop socks, dance socks, salon socks – whatever you want to call them. With or without a heel, short or long, here's your pattern.
These socks are made from worsted-weight yarn for a quick knit.
New to sock knitting? In this pattern you will see links to instructional videos that will explain each section in detail, and help get you through the tricky parts.
Materials:
• 1 hank Cascade 220 (stripes are optional)
• Set of size 6 US double-pointed needles (DPNs)
• Tapestry needle
Size: Ladies, average width, any size
Pattern is $3.00 via PayPal