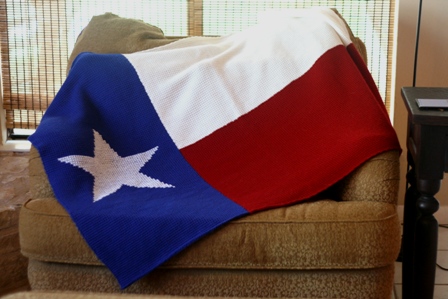 If you've never worked (or heard of) Tunisian crochet, take a look! It's really simple to do, take a look at this short instructional video.
Tunisian crochet is an awesome technique that my family has used for generations, but I have found that there is little known about it with fiber people nowadays. In my family, we have always called it "the afghan stitch". It works up like a cross between knitting and crochet. Tunisian crochet hooks are long (10" or more), and stitches are held on the hook much like a knitting needle. To compare it further to knitting, it is sort of like picking up and binding-off stitches every row.
I am in love with the fabric that is created with Tunisian Crochet. It is a plain fabric that can be compared to Stockinette Stitch in its simplicity, but it is flat and does not curl like Stockinette. Also, the stitches are perfect little squares with holes at the four corners, which nicely accommodate cross stitch designs.
This pattern makes a proportionally-accurate Texas State Flag, which just happens to be proportionally-accurate for a crib blanket as well. The size can be modified by changing the yarn or hook size for a bigger or smaller blanket.
Details –
Size: 60" x 40"
Yarn: 3 hanks each color Cascade 220 (or about 600 yards of each color in any worsted-weight yarn) in:
• White
• Ruby
• Stratosphere
Hook: Tunisian crochet hook in size 10/J, or size to obtain gauge
Additional Tools: row counter (optional), tapestry needle
Pattern is $4.00 via PayPal.