"How do I block this?" That's the knitting question I get more than any other. So, here we go…
The situation – you have finished knitting, seaming, and weaving in the ends. Now you're ready to block the piece, which will transform your caterpillar knitting into a beautiful butterfly. This is also how you will hand wash your knitting every time it needs it.
Before we start, are you working with multiple yarn colors? Stripes, borders, fair isle, etc? If so, there is a chance that the dyes will bleed when they get wet, so you want to set the dyes before you follow the instructions below. Fill the sink with cold water and about a cup of white vinegar. Soak your knitting for about a half-hour, and rinse to get out the pickle smell. You can move on to blocking while it's still wet, no prob.
Step 1: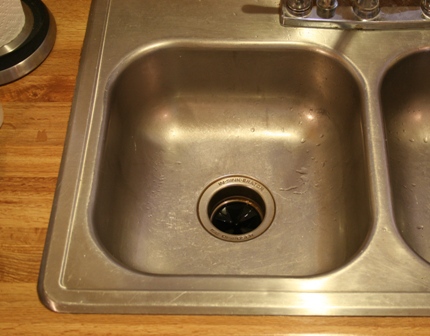 Clean sink.
Step 2: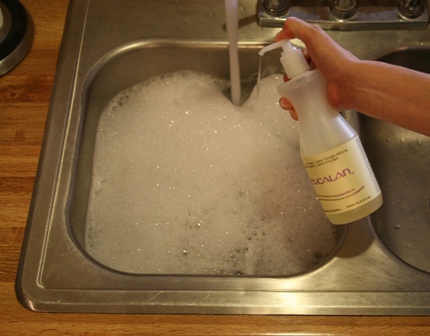 Fill with lukewarm water and add wool wash. I prefer the wool washes that don't require rinsing, like Eucalan or Soak.
Step 3: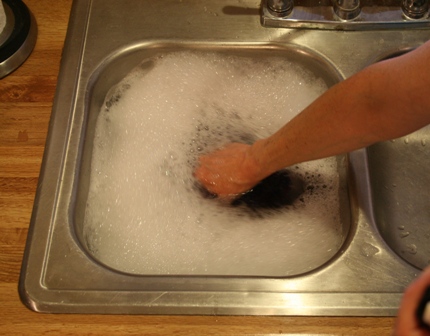 Send your knitting for a swim. Give it a few good squeezes to work the wool wash into the fibers.
Step 4: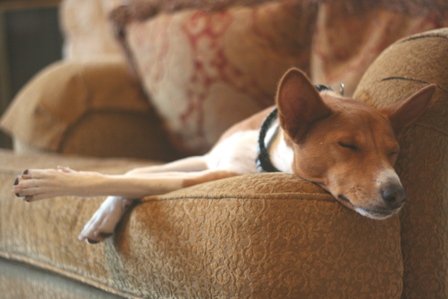 Go find something else to do for a half-hour or so while it soaks.
Step 5: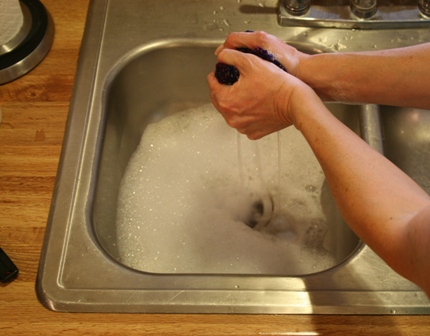 Drain the sink, and gently squeeze out the excess water.
Step 6: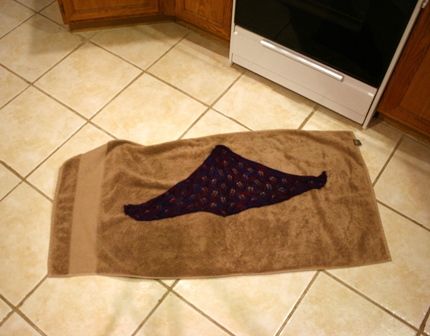 Spread an old towel out on the floor. (I recommend an old towel, because there still may be some color bleeding.) Gently lay the knitted piece out on the towel, being careful not to allow the weight of the piece to stretch it out while it's wet and heavy.
Step 7: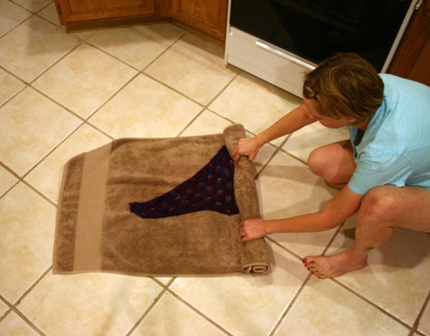 Roll-up your knitting inside the towel like a burrito.
Step 8: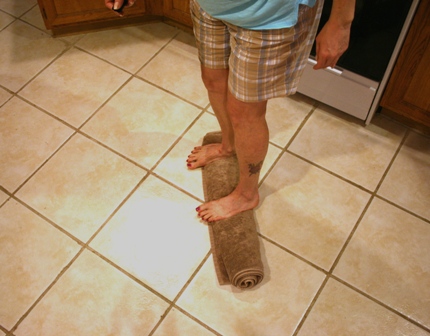 Step all over it. Give it a quarter turn, step all over it again. This is a way of squishing out the extra water without wringing. Note: do not do this in stocking feet. Ask me how I know this.*
Step 9: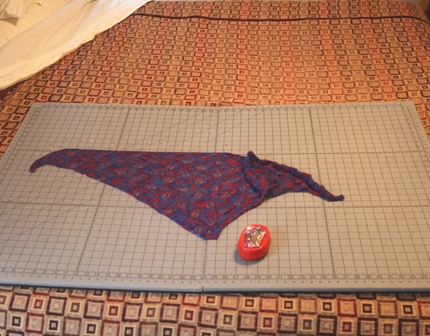 Blocking boards are awesome, but not totally necessary. Find a place for your knitting to dry WHERE YOUR PETS CANNOT GO. That's the only steadfast rule. You can ask me how I know this tidbit, too.** Spread out your knitting to measurements, and pin if necessary. Bonus if there is a ceiling fan in the room.
The piece will dry exactly as you shape it, so be sure to square-out the corners and smooth the stitches. If you're blocking something that is double-thick (like a sweater), flip it over once the top side is dry.
More notes:
– Since you, my friend, are a careful and smart knitter, you knit and blocked a swatch before you started knitting, right? That means there won't be any nasty surprises like out-of-control stretching when the piece gets wet. Good for you!
– I have found superwash wool to be the most unpredictable fiber when it comes to blocking. Be SURE to block your swatch.
– These instructions are primarily for wool, but you can use them to block any fiber.
– Like I said, you'll use these instructions every time you hand wash your knitting, which sounds like a lot of work. The truth is, wool doesn't need washing all that often. I live in a warm climate, and I really only wash my wool sweaters once at the end of the cold season every year.
*I've ended up with wet socks more than once while stepping all over the towel burrito.
**When dogs and cats smell wet wool, they will be convinced that there is a rain-soaked sheep in the house. They will dig through your wet knitting, trying to find this tiny sheep.