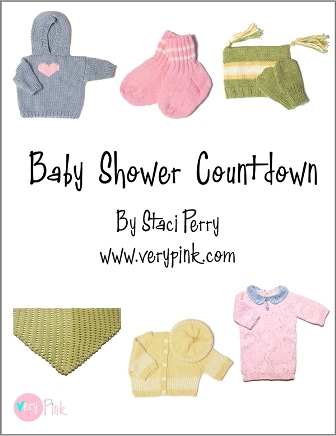 How much time do you have to knit before the shower?
Baby Shower Countdown is a collection of baby knits, suitable for gift-giving, arranged by the amount of time you have to knit before the baby shower.
Whether you're a beginner or advanced knitter, you'll find that these patterns are knitter-friendly and fun to make. Additionally, each pattern includes links to free instructional videos to guide you through the trickier parts. The only skills required for this collection are casting-on, knitting, purling, and binding-off.
Each pattern is designed using affordable, machine-washable yarns. Since baby knits require so little yardage, it's likely that you already have enough yarn in your stash to knit many of the patterns.
These 10 patterns + links to 39 instructional videos are available three ways:
PDF collection (suitable for printing), $12.00 US

Amazon eBook digital download (suitable for devices that use Kindle; including iPad, iPhone, Android, and Blackberry): $9.99 US


Patterns + links to instructional videos are also available for individual purchase and download, listed below.
_____________________________________________________________________
Striped Cardi and Matching Beanie or Beret

Sizes: 3 mo, 6 mo, 12 mo
Yarn: Knit Picks Comfy Sport
Needles: Size US 6
Pattern + links to 8 instructional videos – $8.00 US

Preview Striped Cardi videos
Preview Beanie/Beret videos

Sleep Sack

Sizes: 0-3 mo, 6 mo
Yarn: Berroco Comfort DK
Needles: Size US 7
Pattern + links to 5 instructional videos – $8.00 US

Preview Sleep Sack videos

Cabled Baby Afghan

Size: 36″ x 36″
Yarn: Knit Picks Swish Bulky
Needles: Size US 9
Pattern + links to 3 instructional videos – $4.99 US

Preview Cabled Baby Afghan videos

Eyelet Baby Blanket

Size: 38″ x 38″
Yarn: Knit Picks Comfy Worsted
Needles: Size US 8
Pattern + links to 4 instructional videos – $4.99 US

Preview Eyelet Baby Blanket videos

Quick-Knit Hoodie

Sizes: 3 mo, 6 mo, 12 mo
Yarn: Berroco Comfort Chunky
Needles: Size US 10.5
Pattern + links to 4 instructional videos – $8.00 US

Preview Quick-Knit Hoodie videos

Baby Athletic Socks

Sizes: Infant/Child shoe sizes 2, 3, 4, 5, 6
Yarn: Dale of Norway Baby Ull
Needles: Size US 2
Pattern + links to 6 instructional videos – $6.00 US

Preview Baby Athletic Socks videos

Tassel Hat and Matching Thumb-less Mitts

Sizes: Preemie, 0-6 mo, 6-18 mo
Yarn: Any worsted-weight yarn
Needles: Size US 7
Pattern + links to 6 instructional videos – $5.00 US

Preview Tassel Hat videos
Preview Thumb-less Mitts videos

Cotton Wash Mitts

Size: adult
Yarn: Mission Falls 1824 Cotton
Needles: Size US 7
Pattern + links to 2 instructional videos – $4.00 US

Preview Cotton Wash Mitts videos