Yesterday was my birthday, and the whole adding another year to my age never seems like a big deal to me, but I like to make it a bigger deal by using that time to stand back and take a good look at my situation. Even more than New Year's Day, my birthday is a time for evaluating what is and isn't working, and making sure I'm on track with what I really want to be doing.
So, that's what I've been doing the last few days. I'm relieved to say that most things are going pretty darned well. I feel pretty lucky, in fact.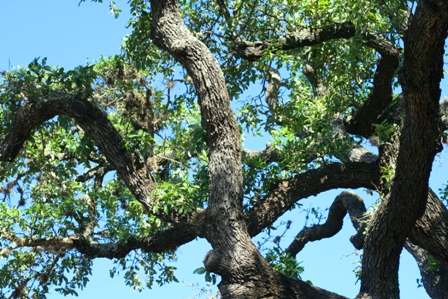 The end of April is an ideal time to have a birthday if you live in Austin, Texas. It's easy to feel optimistic when it's sunny and warm and gorgeous outside. I love waking up in the morning and sliding my feet straight into flip flops instead of warm slippers.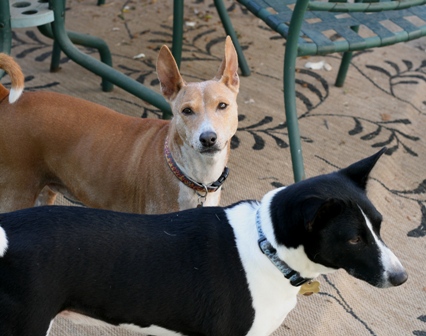 The dogs love it, too. (Ike and Abe – Tippy was being camera shy.)
I did, of course, think of a few things I'd like to change in the upcoming year, and one of them is how I use my website. A few months ago I reworked the site to make it easier to navigate, and to allow me to easily blog without making it difficult for folks to find videos and patterns. Well, the website is reworked, but I never started blogging again. I also hardly take any photos at all anymore, and I'd like that to change, too.
Lookit me taking action! I'm posting something other than a knitting video! With photos!
This pile of unblocked knitting is my current project, which I started because of several requests from people who want this lesson. I'm finally creating a pattern and tutorial for learning to knit a women's sweater. The pattern is nearly finished, and we'll probably start shooting videos in mid-May.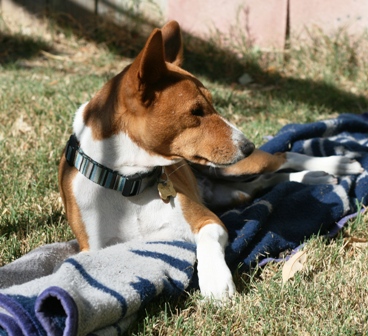 Ah, there's Tippy.