OMG you guys, I'm running.
C25K is short for "Couch to 5K", a beginner's running program. It is designed to ease you into running, and after 9 weeks, you're running 3 miles in 30 minutes.
I started the program after seeing that a few of my Facebook friends were doing it, and doing it successfully. On Day 1, I had less of a "LET'S DO THIS" attitude, and more of a "okay, let's see how long I'll last" frame of mind. Seriously – I haven't run since high school gym class, and I hated it back then. Since high school I have been a walker, walking with and without dogs every day for the last 20+ years. Sometimes I sprint for a block or so with the dogs, but never any sustained running.
I really had no idea if I could do it or not.
So on the first day I was running around the track when the lady's voice from my iPhone app said "Halfway". I thought – hey! I'm doing it! I finished up the rest of the run, got home, and then they hit me.
Endorphins.
Runners High, "high on life", whatever you want to call them. I HAD NO IDEA HOW AWESOME THEY ARE. They make the world seem like a sparkly, happy, perfect place. And they make me feel like I could leap tall buildings in a single bound. Crazy.
Today I just finished Week 2, Day 2 of the program. Here's a photo of me right after my run, totally whacked-out on endorphins.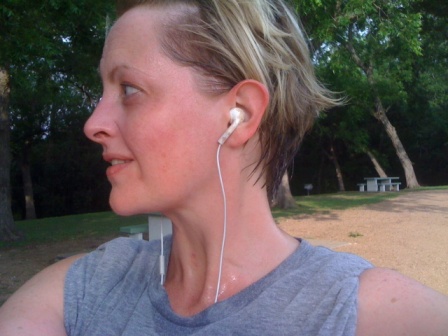 I refuse to face the camera without at least mascara and eyebrow pencil.
People I tell about my new routine always ask the same questions – any joint pain? Sore muscles? I'm happy to say that I don't have any joint pain, and I only had sore muscles after the first couple of days. Instead, my old enemy plantar fasciitis has reared it's ugly head. I'm stretching and icing my foot after each run, because I do not want this to keep me from my precious endorphins.
On another note, if you've been reading verypink for a while, you'll remember Chris (my ex, now my friend). He's now a "former corporate guy, who left 'Big Oil', sold his home, and is beginning a life-changing journey to Central America." He's in Guatemala now, and he's documenting his trip on his new blog, The Experiential Traveller. I'm curious to see how much of a hippie he's going to turn into over the next few months.