I really, really love what I do for a living, but because I knit for work, I don't often get to play with yarn in any ol' way I'd like. I'm usually knitting up a new design, or "piece outs" to use in videos, or samples for in-person classes.
But earlier this month I taught a class (at the request of my close knitting friends) in crocheted granny squares. AND NOW I CAN'T STOP GRANNY SQUARING. I have a new cardigan design that really just needs blocking and a zipper, and I didn't touch it all weekend. Instead, I did this.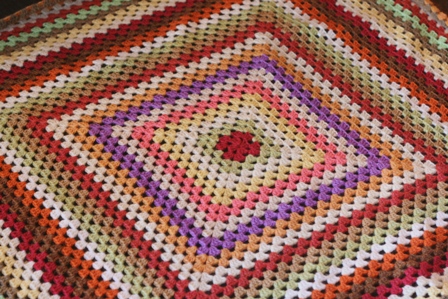 I'm using leftover Knit Picks Palette yarn, which is leftover from two projects from two knitters. My leftovers are from this sweater I knit for my mom a few years ago…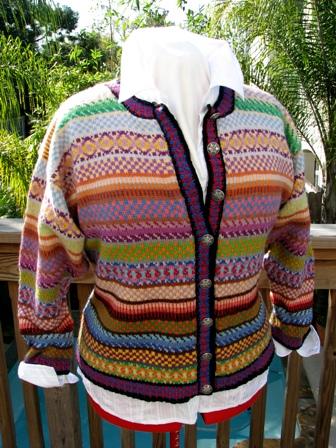 …and the other leftovers are from my friend Steven's Vaila vest. I picked up his leftovers in a yarn swap earlier this year.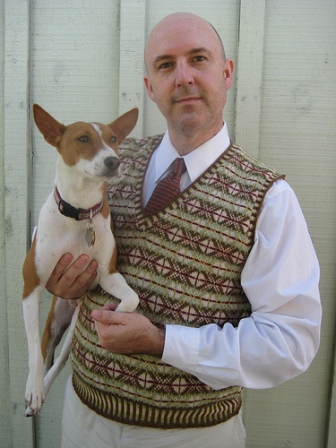 This photo is Steven and his Basenji girl, Kate. Steven and Jeff adopted Kate when they adopted Pona. I highly encourage you to check out Steven's blog post on his Vaila vest. Awesomest photos ever.
When I met with my knitting friends on Saturday, Steven was pointing out the colors that he recognized in my granny square that were his vest leftovers. I love that.
Okay, back to work for me. If all goes well, we'll soon have a video tutorial on a ladies' cardigan sweater/jacket, with a zipper.
Here's Abe, because he's cute.