I wrote several weeks ago about how I'm doing the C25K (Couch to 5K) beginners' running program, and how much I LOVE running now. I'm seven weeks into the program, and I'm running 25 minutes without walking, which is just under 2.5 miles for me. This program is amazing.
And I'm totally bummed to say that I need to throw in the towel, at least for a while. All because of one square inch of my body.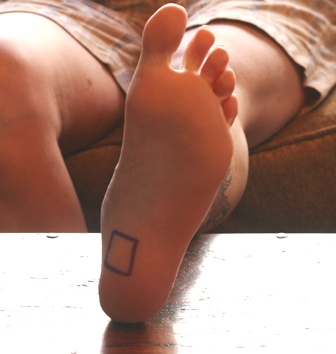 This is the evil, painful spot, caused by plantar fasciitis. I've been limping around for a few weeks now, but my last run was really unbearable, and I had to stop and walk for the first time in the program.
Plantar fasciitis is the swelling and tearing of the fascia (a connective tissue) that runs from the heel to the toes, creating the arch of the foot. As far as I'm concerned, it doesn't seem like an important enough part of the body to make me stop running.
Heart, lungs, brain – these are important parts of the body that one should listen to. Fascia, appendix, wisdom teeth – these are stupid parts of the body that need to shut up.
But I suppose any insignificant part of the body can become painful enough to make me take notice. So now I have to take orders from a stupid fascia.
Today I went for a WALK, which is not a RUN, and not nearly as fun. But hopefully, reducing the impact on my foot will allow it to heal, and let me get running again.
Stupid fascia.