I'm often surprised when I get questions from knitters about patterns, and I discover that they aren't Ravelry members yet. If you are knitting or crocheting, you need to become a member! It's free and awesome!
Let me sell you on this idea. First up, it's a perfect place to store information about the projects you've finished, or are currently knitting. You get your own "notebook" page where you can upload photos, add details about the yarn and needles you used, etc. Here is a screen shot of my notebook page: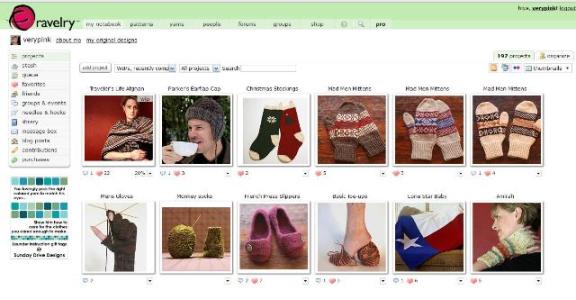 While you're uploading information about your projects, other people are doing the same thing. If there is a project you're interested in starting, you can see how the pattern has worked for other people. What yarn did they use? Did they enjoy knitting it? Was the pattern well written? How does the design look on different body types?
Here is a detail of one of my project pages.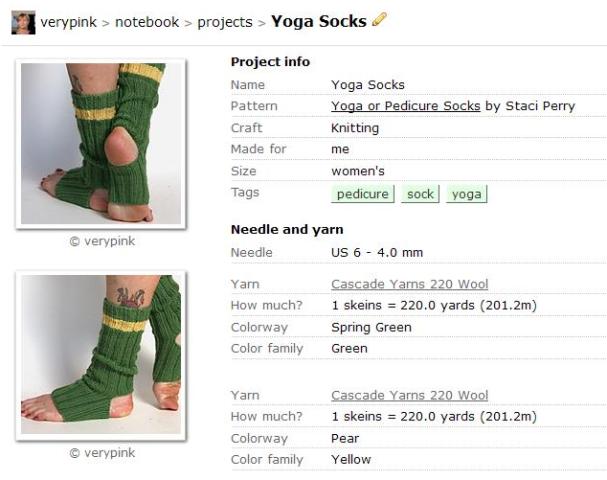 Those are the two main ways that I use Ravelry, but there are lots of other ways to be involved. There are forums and groups where people socialize and help each other. There are knit-alongs and yarn swaps and people looking for test knitters. (Help me out here – leave a comment and tell newbies how you're using Ravelry!)
Here's what to do –
1. Go to www.ravelry.com, and sign up
2. Enter at least one project that you've finished (or are still knitting) when you're ready
3. Find me here and "friend" me, I'm happy to be your first friend!
4. Explore! If you like, you can join the conversation in the verypink discussion group
If you have any questions, feel free to leave it in the comments. While I was writing this post, I saw on Facebook that Margaret Atwood just joined Ravelry. 🙂