I teach a knitting class here at my home called Knitting University, and it's been pretty much the same group of women for over a year now. Needless to say, they're becoming expert knitters! For our next knit-a-long, I had to choose something different and challenging for them.
So I chose Ecuador, a design I really liked, and asked them if they wanted to make it, too.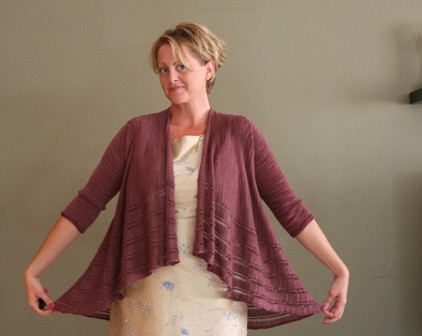 It's pretty, available in a large range of sizes, and flattering on almost any body type. They all agreed that this would be our next knit-a-long. So I got busy knitting and familiarizing myself with the pattern so that I could help them along with their sweaters.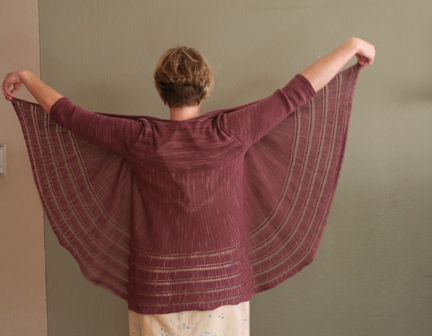 I mentioned in a post a few weeks ago that I love it when I get the chance to step out of pattern designing and just play with yarn instead. Knitting another designer's pattern is a real treat for me. And BONUS! I get a cute sweater out of the deal.
This sweater is knit with sock yarn, and as you can see, is composed of a lot of fabric. Too much for my blocking board, in fact!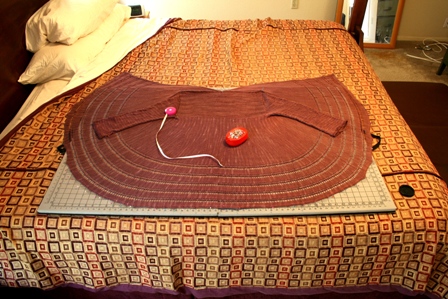 The body of the sweater is a really simple lace pattern that is easy to memorize, but also includes short row "wedges" of fabric that give the sweater it's circular shape.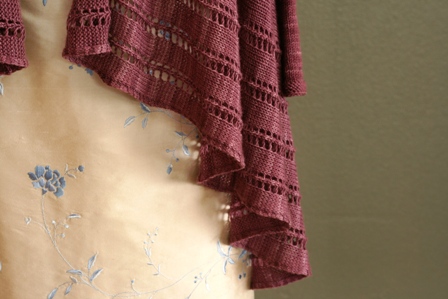 For now, I'll fold this sweater up nicely and wait for the day that it's under 100 degrees in Austin so that I can wear it. 🙂
UPDATE – The designer of this sweater, named Joji, just saw my sweater on Ravelry and sent me this note:
Oh!!!!
This is absolutely stunning!
I went over to read you blog: THANK YOU FOR CHOOSING ECUADOR FOR THE KNIT-ALONG!
Hugs,
Joji
Aww. I feel even better about knitting it now that I know the designer is so sweet.