I just heard that a new restaurant here in Austin, called El Arbol, has abruptly shut it's doors for business.
That's not really such a big deal, since restaurants come and go. But I know why this one closed. It's because it was CURSED.
El Arbol (The Tree) is named for the magnificent oak tree that was the center of the restaurant. There were three floors of luxurious indoor seating, and three floors of patio seating around the big tree.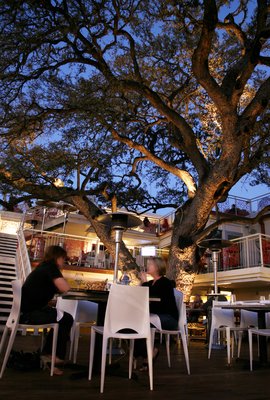 This place was, without a doubt, totally beautiful. Each floor a different design.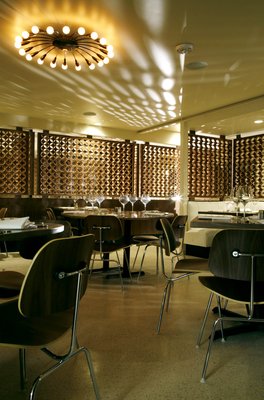 I stole these photos from Yelp.
So now you understand that the place was awesome. Great wines, great food, great service, beautiful place. My love for patio dining drew me to this place like a moth to the flame. Now back to the curse.
Over this summer, I went on six dates here with six different men, and after each date, I never wanted to speak to the man again. (Mind you, I've been on dates this summer at other places, but this place stands out as a disaster.) Let's review –
Date 1: I honestly can't remember this date. Oy. But someone introduced me to the place.
Date 2: He invited me here (to my surprise, since I had been here a couple of weeks prior). I told him that I had already eaten and I just wanted a glass of wine, and he ordered two appetizers for himself. We ended up having two glasses of wine each. At the end of the date he asked me to split the bill with him, which is weird anyway, BUT I DIDN'T EAT ANYTHING. This would make more sense if it was a jilt on me, but it wasn't. He wanted to go out again. He was just a cheapskate, and a bore to boot. I paid half of the check, but declined further dates.
Date 3: We met here, and El Arbol was closed because it was a Monday. We went somewhere else instead, but the curse had already touched us. His raging ex-girlfriend appeared over the next few days, and scared me away from ever seeing him again.
Date 4: Normal and charming guy. We enjoyed a glass of wine and nice conversation. Sometime during the second glass of wine, he started to get really drunk. Then he picked up his pace, and ordered two more glasses. He was a very unpleasant drunk. He went on a long rant expressing his hate for modern culture and literature. He went on a second long rant telling me how corrupt home inspectors are. I ended the date as quickly as I could, and got out of there. Even after my "thanks but no thanks" email, he continued to send me drunken emails at 2am for a couple of weeks.
Date 5: This is a nice place right? And anyone with an internet connection can easily see that this is a nice place. Date 5 showed up in a ratty tshirt, cargo shorts, and dirty flip-flops. I could have forgiven that, but I spent the evening learning about every single thing that his daughters do and do not like to eat. Wow. That was really boring.
Date 6: WHY AM I STILL GOING HERE? While enjoying an antipasti appetizer, and I told my date that he should try the cheese, because it was SO GOOD. He said, "I would rather eat the shit from your dog than eat cheese". I threw a piece of cheese at his stupid face. (This isn't the whole reason I stopped seeing him, just the El Arbol part. And English isn't his first language.)
Date 7: It is entirely possible that there was a seventh, forgettable date.
See? I know why this place closed. It was built on some ancient dating burial ground. But it still makes for good stories. Things can only get better now it's closed and I have to go somewhere else, right? 🙂