Last quarter, my Knitting University class (a class that meets here at my home every other Thursday) decided to focus on charity knitting for the quarter. Our charity of choice was the Newborn Intensive Care Unit (NICU) at a local hospital. The hospital needs baby hats of all sizes, from micro-preemie to full-term size.
So we got to work, and from April to June, we knit 34 caps between the eight of us! Most of us used these caps as a satisfying "in-between projects" project.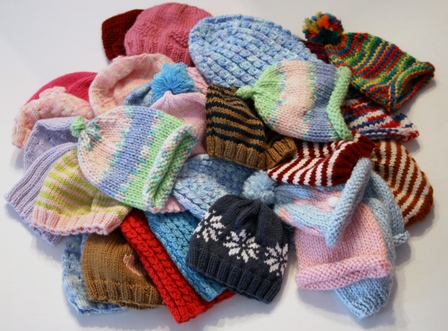 Knitters always want details, details, details – so I'll do my best here. 🙂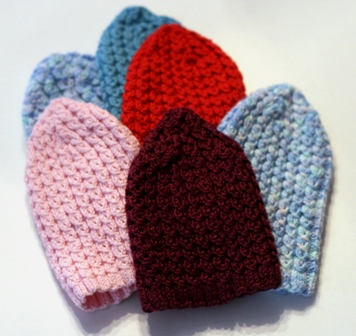 These are Baby Gnome Caps. I believe they were all knit on size 3 US needles. The yarns used were Dale of Norway Baby Stork, and Berroco Comfort DK.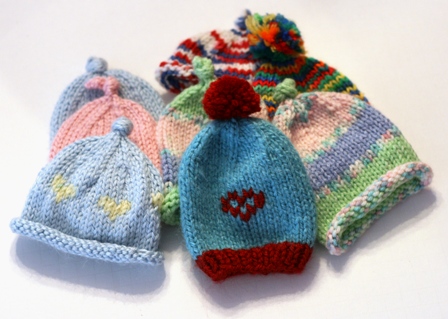 These are Eenie, Meenie, Minie, Moe Preemie Hats. I don't have details of the needle size, and the yarns are different worsted-weight synthetic yarns, some self-striping. The single red heart was made using duplicate stitch, and the yellow hearts around the cap were knit in fair isle.
The next four photos each used the same pattern, Preemie Hats for Charity, which includes a few variations on the standard pattern.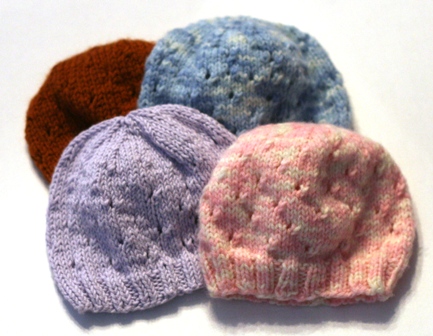 These are eyelet caps, and the yarns are Dale of Norway Stork and Berroco Comfort DK.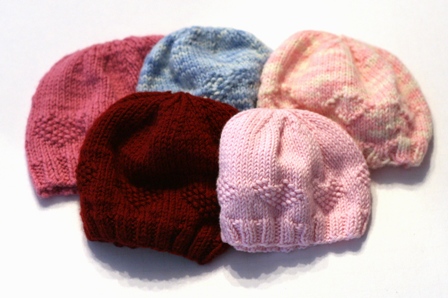 Heart caps, using the same yarns as above.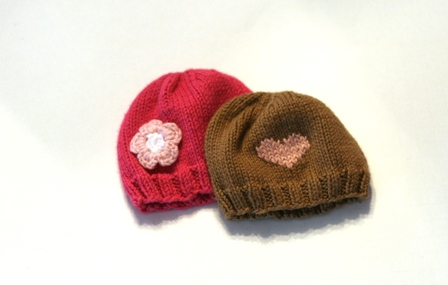 Same pattern, using Knit Picks Comfy Sport. I used duplicate stitch for the little heart, and this simple crocheted flower pattern.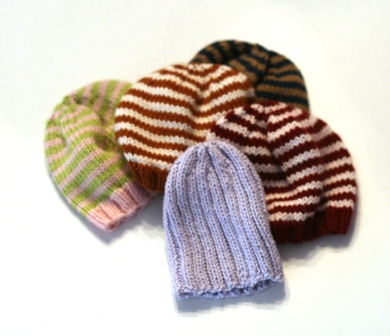 Striped caps and one ribbed cap, using the same pattern. Yarns are Knit Picks Comfy Sport, Dale of Norway Stork, and one other soft yarn – I think it's Berroco Comfort DK.
And the last three –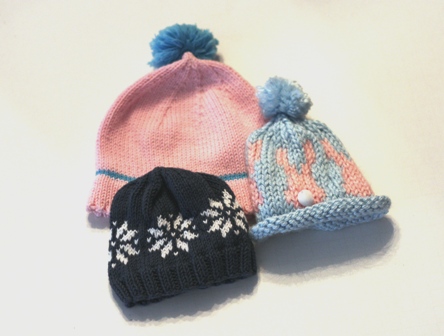 The pink cap – no pattern, sorry. I made that one up. The bunny cap is Blue Rabbit Hat, with one little pre-made pompom sewn on for a bunny tail. The fair isle cap is my Learn to Knit Fair Isle tutorial with one modification – instead of using worsted-weight yarn and bigger needles, I knit the baby size using sport weight yarn and size 3 US needles.
If you're thinking of making baby caps for your local NICU, I suggest you call the hospital to see if they have guidelines for the caps. Our local hospital asked for a few things – first no wool (because of possible allergies), no yellow (because some babies are jaundiced, and yellow makes it hard to tell), and all machine washable and dryable fibers. They also asked that we wash the finished caps in a baby laundry soap (like Dreft) before we drop them off.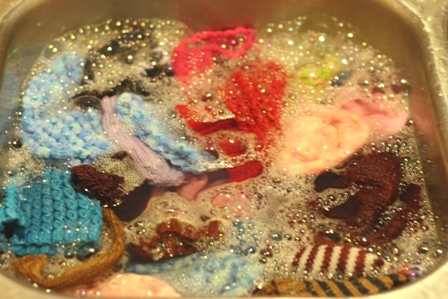 Since we knit these as a group, everyone dropped off their finished caps, and I washed them all at once. They filled the sink!
We all really enjoyed this project, and I think many of us plan to continue knitting for the NICU between other projects. We learned from a nurse at the NICU that caps are in high-demand, and whenever there are caps available, they are quickly used.
Couple of notes – the yarn weights I mention are all in American terms. For UK/Australian terms, here is a conversion chart. Additionally, I refer to US needle sizes. Here is a needle size conversion chart.