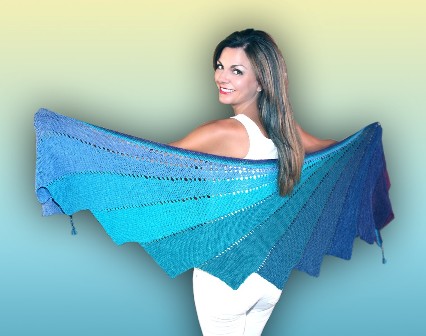 To get your Arabella Shawl kit (over 30 colorways available, worldwide shipping), visit the SKEINO website.
The free pattern is available on Ravelry, and the video tutorial is below and also here on YouTube.
Frequently Asked Questions
1. Can you provide us with the written instructions for the way you work wraps and turns? (These instructions are also in the free pattern.)
– knit up to the stitch to be wrapped
– pull the working yarn forward between the two needles
– slip stitch from left needle to right
– pull the working yarn back between the two needles
– slip same stitch from right needle to left
– turn work
– pull the working yarn back between needles to be in position to continue knitting
2. Can I use German Short Rows instead of regular wraps and turns?
Yes, you can use GSRs, but there really isn't any reason to. The awesome thing about GSRs is that they eliminate the need to pick up the wraps, which can be difficult in traditional wraps and turns. But this pattern is in garter stitch (knitting every row), and picking up the wraps is not necessary. If you prefer to use GSRs you certainly can, they won't hurt anything in the pattern.
3. When I start the second triangle, do I knit 150 (like the pattern says) or 170?
You can trust the pattern – at the end of the first row in the new color, you cast-on 20. Knitting 150 is correct – it will not reach the end of the row, and it will make each triangle the same size, and give you the "staggered" effect I demonstrate in the video. 150 is divisible by 6.
Information on things you'll see in this video:
The colorway I used in my shawl is Clematis.
The colorway in the still photo is Aqua.
The bulky yarn I use for demonstration is Knit Picks Wool of the Andes Bulky, and the needles I used are Knitter's Pride Platinas, from an interchangeable kit.
The plastic clippie markers I used can be found here.
The coil-less saftey pin markers can be found here.
My silver ring is actually a knitting needle gauge, and can be found here.
The nail polish I'm wearing is by Julep, and isn't actually a color, but I like the way it looks. It's a nail treatment, called Oxygen Nail Treatment. It seems to help my nails grow, and prevents chipping and peeling.