We've all been there – stuck on a pattern and in need of some help. In this video, I show you some ways to get answers to your questions, and show you how to find info on modifying patterns.
There is one more way to get pattern help that I missed in the video! Sometimes people leave gems of information in the "Comments" tab of the main page for the pattern. See the arrow in the image below.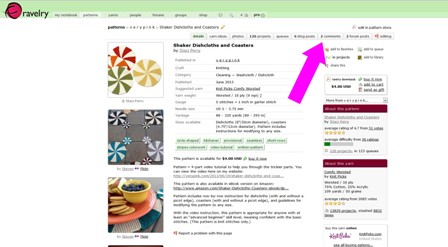 Information on things you'll see in this video:
The tote bag on the mannequin is my ATX Linen Tote. This pattern is free with yarn purchase on the Louet website, or at a preferred retailer. Just purchase two hanks of Euroflax Sport yarn, and use the coupon code VPEUROFLAX (all caps) for your free pattern.
The Shaker Dishcloth pattern and video tutorial I use in the on-screen examples can be found here.