You can see Casey's website and her social media buttons on kcknits.com.
From Our Sponsors:
Mango Moon/Dale Garn
Fimmel Hat and Mitts Kit & Tutorial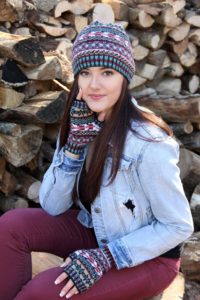 Links to things we talk about in this episode:
Here are a few of my Fair Isle tutorials –
Learn to Knit Fair Isle
Fimmel Hat
Color My Cowl
Color My Cuffs http://verypink.com/2016/07/27/color-cuffs-tutorial/
Correctly Mounted vs. Twisted Stitches
Reinserting Needle into Live Stitches
Log Cabin Blanket
The question was about the yarn I use in the demonstration, which is Knit Picks Wool of the Andes Bulky, but I used worsted weight yarns in my finished blanket.