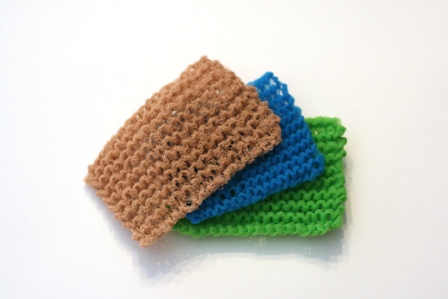 I'm happy to offer you this free pattern + video tutorial, because these scrubbies feel like a secret I've been keeping for years. I say "World's Best" because I believe it – this is what you'll find at my kitchen sink! They get the job done, rinse easily, and dry quickly – meaning they never stink. To make these, we knit with tulle fabric (also called mesh or netting), cut into strips. It's a fun project, to boot.
This pattern is a FREE RAVELRY DOWNLOAD, and includes a link to a free video tutorial (video is also available at the bottom of this post).
Size: 3" x 4"
Needles: Size 10.5 US, straights or circulars
Yarn: No yarn! We use tulle fabric (also called mesh fabric or netting fabric), cut into strips. I cut the strips from 1" to 2" wide. (In the photo above, the tan one was knit with 1" wide strips, the other two were knit with 2" wide strips.) You will need about 12 yards of cut strips per scrubbie.
Additional Materials: tapestry needle for weaving in ends
Gauge: Gauge doesn't really matter. To get the size above, my gauge was 4.5 stitches per inch.
Note: Do not buy sparkly, glittery fabric. Unless you like vacuuming sparkles off of every surface of your home and pets. Speaking from experience here!
Be sure to check out my other video tutorials.
And the video –
Links to things you'll see in this video:
The pink scarf I'm wearing can be found here.
(I don't have a Ravelry page for this project – I believe I used Malabrigo lace yarn.)
The sweater on the mannequin is loosely based on this pattern.
(Again, sorry – I don't remember the yarn I used for this.)
The needles I'm using are Crystal Palace wood DPNs.