What do you get when you combine 15 awesome women, their knitting, wine, and brownies? Around here we call it Sweater University, a class I taught all summer long. After meeting every-other Thursday since June, last night was our final session. We called this session our "party", which meant there was even more wine involved.
The students signed up to get classes and coaching from me on sweater knitting. Unlike other classes I teach, this one gave the students the help they needed over FOUR months, so that they could work on their sweater and get all the coaching they needed.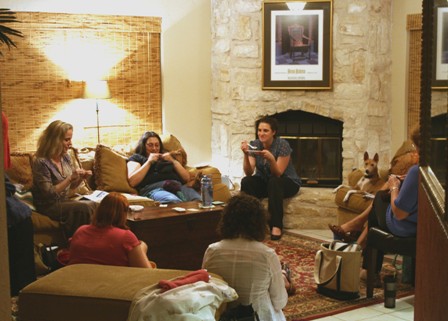 See Ike? He's the only dog allowed amongst The Ladies and The Yarn. I wish I had a wide-angle lens so I could have fit everyone in a single photo!
No one was sad last night that the class is ending, because we've decided to continue the class, this time calling it Knitting University. We're going to have structured lessons, plenty of coaching, and of course – wine and brownies. If you are a knitter here in Austin and you're interested in joining us, we have room for one or two more people. Email me at staci@verypink.com and I can send you the details. UPDATE – the upcoming Knitting University class is totally full! If you're interested in a similar class in the future, you can drop me a note.