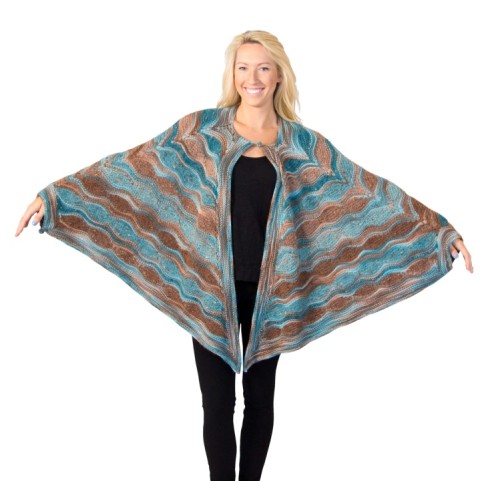 The Floating Garden Shawl is an elegant shawl/poncho hybrid, easy to wear and fun to knit in gorgeous SKEINO handpainted yarns. Visit one of the links below to get your yarn kit and free pattern.
SKEINO now has two websites to better serve – to see the colorways available in the Floating Garden kit or to purchase a kit, visit one of the sites below.
US and the rest of the world
European customers
The free Floating Garden Shawl pattern is available by visiting the same links above. The video tutorial is at the bottom of this post (scroll down).
The colorway I'm wearing in the video is Daphne. The colorway I show (unknit) is Connie. The pin I used to close my shawl is called a pennanular brooch, and is available at many Etsy stores.
SKEINO has their own YouTube channel, you can check it out to see a variety of videos on knitting and yarn dyeing.
The nail polish I'm wearing is by Julep, color "Lorraine".
Edited to add – after a request in the YouTube comments, here is the image of the schematic drawing I used in the video.