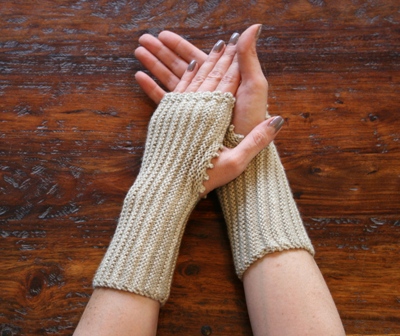 You can get your free copy of the pattern here, and follow along with the video tutorial.
This pattern is designed by Annie of knitsofacto.blogspot.com. Many thanks to Annie for letting us use her pattern in this tutorial! You can see Annie's other designs here.
Yarn weights notes: In this tutorial I talk about "worsted" weight and "DK" weight yarns. Worsted weight yarn is also called "10 ply" in some parts of the world, and DK is also known as "8 ply". DK weight and Sport weight (aka 5 ply) are close enough that you can get gauge for this pattern with either.
Information on things you'll see in this video:
The sweater on the mannequin is my Learn to Knit a Women's Sweater, pattern + video tutorial.
The circular needles I'm using are Knitter's Pride Symfonie Dreamz interchangeable needles.
The red yarn I used for the cast-on is Lion Brand Thick & Quick in Cranberry.
The bulky turquoise yarn I used is Lion Brand Hometown USA in Charlotte Blue.
The DK mitts I made in the oatmeal color are made with Madeline Tosh, Tosh Sport, in Luster.
The worsted-weight mitts I made in the brown color are made with Dream in Color Classy, in Tea Party.