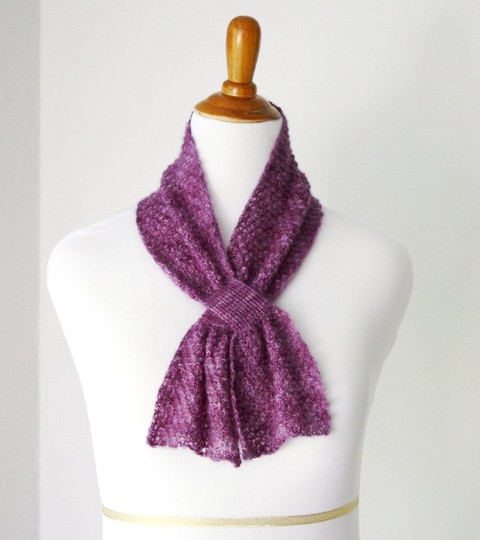 I designed this little scarf to be both a pretty and quick pattern as well as a good introduction to lace knitting. Experienced lace knitters will find it a simple pattern to follow, and new lace knitters can use this project as a good introduction to more complicated lace.
This pattern includes links to a four-part video tutorial (video below). This scarf is appropriate for knitters who have at least "advanced beginner" skills, meaning you're comfortable with the basic stitches, as well as simple pattern reading.
This pattern is a FREE Ravelry download.
Important note on the yarn – the Colinton Yarn I used in my scarf is currently only available in a few limited colors here. Any lace weight yarn that is predominantly animal fibers (wool, alpaca, cashmere, etc.) can be used as a substitute, 225 yards required.

Finished Size: 6" wide by 38" long (15cm by 97cm)
Needles: Size US 4 (3.5mm) 24" circular needle and size 2 US (2.75mm) needles straights or circulars
Yarn: 1 hank of Colinton Australia Lace (100% kid mohair, 50 grams, 225 yards)
Additional Materials: tapestry needle for weaving ends
Gauge: 8.5 stitches per inch in Lace Pattern stitch.
The color of Colinton Lace I used for my scarf is Amethyst.
Information on things you'll see in this video:
Some brands of lace knitting needles that I recommend are:
Knitter's Pride Platina
Addi Lace
Signature Needle Arts
The yarn I used for demonstration is Berocco Ultra Alpaca.
The needles I used for demonstration are Knitter's Pride Bamboo.
My silver ring is actually a knitting needle gauge, and can be found here.
The nail polish I'm wearing is by Julep, and isn't actually a color, but I like the way it looks. It's a nail treatment, called Oxygen Nail Treatment. It seems to help my nails grow, and prevents chipping and peeling.