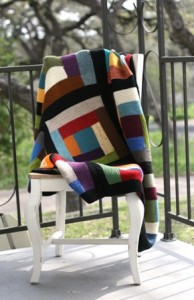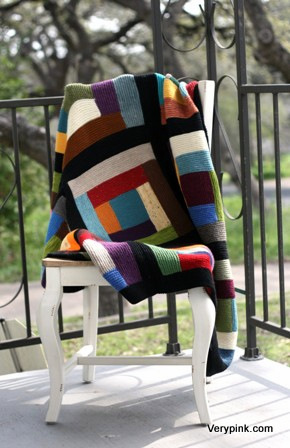 The Log Cabin Scrap Blanket pattern and video tutorial can be found here.
I noticed that I'm getting many of the same questions on this pattern, I believe it deserves it's own FAQ page.
GENERAL QUESTIONS
Q: What is a garter stitch ridge? How many rows make a ridge?
A: It is easier to count garter stitch ridges in this pattern, rather than rows of knitting. You can see the ridges in your work, and I demonstrate in the video. A garter stitch ridge is made up of two rows of knitting, a right-side and a wrong-side. In your center square, the cast-on creates one-half of a ridge – so the cast-on plus the next row of knitting creates one ridge. On subsequent strips, picking up stitches creates one-half of a ridge – so the picked up stitches plus the next row of knitting creates one ridge. Really, it's much easier just to count the ridges you see, rather than counting rows and trying to convert them to a number of ridges.
Q: I can't seem to get the colors of my blanket to come out as nicely as yours. What am I doing wrong?
A: My guess is that you're doing it correctly. 🙂 Don't get hung up on the colors of any one square. Once the whole blanket comes together, the colors take on a different personality. I followed three simple rules in regards to color – first, I made sure that no single square was dominated by a single color. Second, I made sure that no single square was dominated by mostly dark or mostly light colors. Third, I kept really uncomplimentary colors from touching each other. That's it!
Q: I don't understand how to work the borders.
A: The borders are worked like every other strip. The only difference is that you're not cutting the yarn to start a new color. Just stick with the same border color for four strips, which will cover each of the four sides.
Q: My worsted weight yarn leftovers vary in thickness. Is that okay?
A: In the blanket pictured above, mine varied, too. I would guess that the yarns I used could be called worsted, light worsted, and Aran. It turned out fine.
MODIFICATIONS

Note – I provide a ton of information below about modifying this pattern. Please understand that questions beyond what I've answered here will take some experimenting and test knitting on your own. Your yarn/needles/gauge are unique to your blanket, so I can't really answer specific questions. I hope the info below gets you started so you can pull out your yarn and needles, do a little math, and make your quilt blocks exactly how you imagine them. Good luck!
Q: I'd like to buy yarn and coordinate colors, instead of using leftovers for this project. How much yarn do I need?
A: That will depend on how you want to arrange the colors. In the pattern, I have a graphic that shows each strip and how it fits into the square. Plan your colors out as you want them for each strip, then do the math –
Center square – about 20 yards of yarn
Strip 1 – about 10 yards
Strip 2 – about 15 yards
Strip 3 – about 15 yards
Strip 4 – about 20 yards
Strip 5 – about 20 yards
Strip 6 – about 25 yards
Strip 7 – about 25 yards
Strip 8 – about 30 yards
This is a guideline for the weight of yarn I used (worsted), with the gauge listed in the pattern (5 stitches per inch).
Q: I don't have enough worsted scrap yarn to make the whole blanket, so I'd like to mix it up and use different weights of yarn in my blanket. Will this work if I change needle sizes based on each yarn weight to adjust the gauge for each strip?
A: In theory, this will work, yes. But do you want to swatch for gauge for each strip you knit? Not only would that be a lot of extra work, but it is unlikely that your blanket will end up with straight, right angles. I recommend making this a longer-term project, and using one weight of scrap yarn (I used worsted) as you accumulate more leftovers as time goes by.
Q: I don't have enough of one fiber type (animal, plant, synthetic) to make the whole blanket. Can I mix it up?
A: I address this in the video tutorial – I don't recommend it. Not only will you end up with a blanket with no clear washing instructions, but different fiber types are going to behave differently when they are met with water or steam. You may end up with some strips that end up sagging and loose (like cotton), while other strips hold their shape. I recommend making this a longer-term project, and using one fiber type (I used animal) as you accumulate more leftovers as time goes by.
Q: I'd like to make one big quilt block, so that I don't have to do any seaming. Is this possible?
A: Yes! You can absolutely keep adding strips to make a bigger blanket. Just keep this in mind – you're going to need greater and greater yardage for each strip as the blanket grows. I personally would not be able to make a scrap blanket this way, since my leftovers are only in small amounts.
Q: I'd like to make bigger/smaller quilt squares using a different yarn. How much border color will I need?
A: You will need to test this out yourself, here's how you do it – knit up one square in the size you want it. Using a new skein of yarn (you need to know exactly how many yards and grams there are, so this cannot be scrap yarn), knit the border, then weigh what remains of that skein on a kitchen scale. Subtract the new weight from the original weight (printed on the ball band) to see how many grams of yarn you used. Then do some math –

Original number of yards / original number of grams = X
X = the number of grams per yard for that yarn
Original weight of skein – new weight of skein = Y
Y = the number of grams used in the border
X * Y = number of yards needed for the border on each square
Q: Can I hold a lighter weight yarn double-stranded to get the same weight as worsted?
A: You'll need to test this out yourself, but if the gauge is about the same, it should work fine next to worsted yarns in the blanket.
Q: I would like to make a bigger/smaller blanket. How many quilt blocks should I make?
A: My suggestion is to knit up one quilt block using the yarn and needles you'd like to use, then make a judgement. Baby blankets are typically about 40×40 inches, king-sized bedspreads are typically about 90×90 inches, and there are lots of useful blankets in-between those two. You can decide how many quilt blocks to make once you see the exact size you get after knitting one up.
BLOCKING
Q: Do I have to steam block each square?
A: You will find it easier to seam the finished squares together if you steam them before seaming. I steam stuff out all the time while I'm knitting it – mainly because I like the look of it. Steaming as you go will also alert you to any tension problems you might be having with the strips, like a tight bind-off.
Q: Should I wet block the entire blanket when it's finished?
A: This is up to you. I chose not to wet block my finished blanket, and I probably won't ever do that unless something gets spilled on it. I used wool for mine, and wool doesn't need washing as much as other fibers. Instead of washing, I will put the dry blanket into the dryer with a dryer sheet to freshen it up. Additionally, my dryer sheets are scented with lavender, which is supposed to keep moths away!