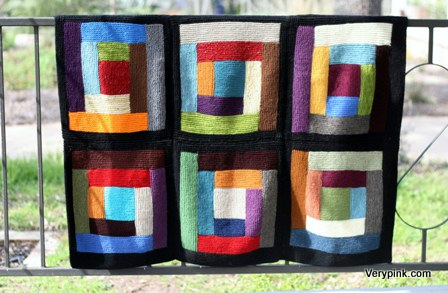 When I describe myself as a knitter, I always use the word "stashless". This is true – I never, ever buy yarn unless I plan to cast-on with it right away, knowing exactly what I'm going to make. I have ZERO stash.
That doesn't mean that I don't have a "yarn closet" full of yarn. Oh, boy. I have little bits of leftover yarns from decades of projects. I'm able to use up some of these leftovers in the sample bits I knit up for demonstration in the videos, but I love it when I can sink my teeth into a great use of leftover yarns.
So here we have the Log Cabin Scrap Blanket. Log Cabin is a traditional quilting technique that has been adapted over the years into both knitting and crochet. This one is knit.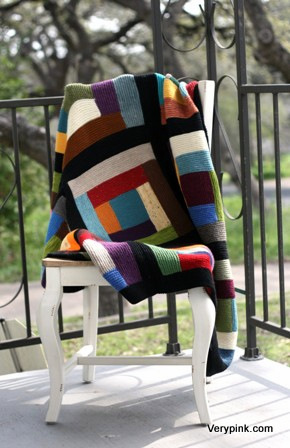 This pattern is a FREE RAVELRY DOWNLOAD, and includes links to a six-part video tutorial. The video is also at the bottom of this post.
Size: approx 47" by 63"
Needles: size 7 US (4.5mm), circulars or straights
Yarn: Use up your leftover worsted yarn bits! For best results, stick with one fiber type for the whole blanket. Either animal (wool, alpaca, angora, etc.); cellulose (cotton, linen, bamboo, etc.); or acrylic. You'll also want to stick with one weight of yarn. If you choose to pick a border color as I did (in black), you'll need an additional 1100 yards of yarn for the size I indicate above.
Additional Materials: tapestry needle for weaving in ends and seaming, and clippie markers are always helpful
Gauge: 5 stitches per inch in garter stitch
Frequently Asked Questions on this pattern can be found here.
Be sure to check out my other video tutorials.