Sign up to win one of three exclusive colorway subscription kits from my friends at A Good Yarn Sarasota, and their new subscription box called Purl Diver. Each winner will receive a three-month subscription to Purl Diver!
Each stunning color kit is inspired by marine sea animals and comes with a hank of luxury yarn from dyers like Lorna's Laces, Fibre Seed, Mountain Colors, Dream in Color, (to name a few); a pattern and a little goodie.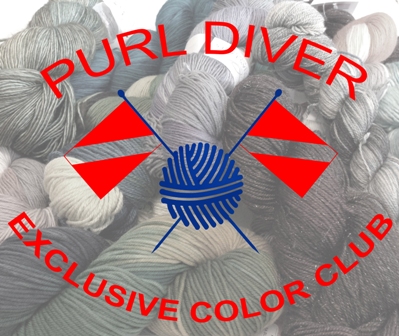 Purl Diver subscriptions are open only between Oct 1-Oct 31. Every month is a new surprise and subscriptions are three or six months. To learn more about A Good Yarn Sarasota's Exclusive Purl Diver subscription kits, visit the Purl Diver page.
Filling out the form below will enter you in the giveaway contest, and the A Good Yarn Sarasota mailing list. You can opt out at any time.
Winners will be chosen by a random number generator and announced on Facebook and via email on October 13, 2015. Good luck!