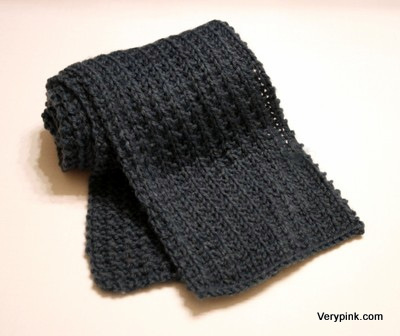 Here it is – the pattern and video tutorial for brand-new knitters. This tutorial will teach you to knit, and get you started on your first project at the same time. Pattern includes links to 7 instructional videos.
This tutorial covers all of the basics, which will set you up well for future projects! We learn slip knot, casting-on, knit stitch, purl stitch, binding off, pattern reading, and how to alternate knits and purls in the same row.
Materials Needed:
• one skein of Lion Brand Wool-Ease Worsted (widely available at craft stores), or 200 yards of another worsted-weight yarn, preferably wool or wool-blend
• size 10.5 US needles (preferably wooden ones)
• a tapestry needle for weaving in your ends
This pattern is available two ways – either in traditional PDF (printable) format, or in eBook format.
Pattern + links to 7 instructional videos in PDF format $8.00 US via PayPal.

Amazon eBook digital download (suitable for devices that use Kindle or the Kindle free app; including iPad, iPhone, Android, Blackberry, and your computer): $6.00 US.


Information on things you'll see in the video:
The scarf on the mannequin is my Learn to Knit an Aran Shawl, pattern + video tutorial.
The sweater I'm wearing is the Featherweight Cardigan, knit with Malabrigo Lace.
Part 7 of the video series is a private video, and the link is provided within the pattern.