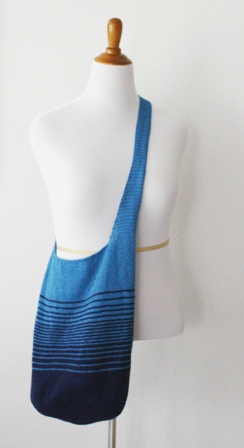 I named this bag ATX after the city where I live, Austin, Texas. Austin is one of the many cities across the world that has banned the use of free, cheap plastic bags at most stores and shops – and everyone I know has adapted to the new rule very well. What crafty person would want to carry a plastic bag when they can make their own reusable bag, and a unique and pretty one, at that?
This pattern includes links to a five-part video tutorial (you can see the video below), where I explain the trickiest parts of the project. This bag is appropriate if you are at least an "advanced beginner" knitter, meaning you're comfortable with the basic stitches (casting-on, knitting, purling, basic decreases), and you have at least a little pattern reading experience.
This pattern is FREE with yarn purchase on the Louet website, or at a preferred retailer. Just purchase two hanks of Euroflax Sport yarn, and use the coupon code VPEUROFLAX (all caps) for your free pattern. Or, you can also get your free copy of the pattern by visiting one of the preferred Louet retailers:
Knitting with Nancy, Naples FL
A Good Yarn, Sarasota, FL
Twisted Yarn, Spring, TX
Websters, Ashland, OR
Once Around, Mill Valley, CA
Webs, Northampton, MA
Churchmouse Yarns, Bainbridge Island, WA
Salty Sheep, Swansboro, NC
Wool n Things, Ottawa, Canada
Size: One size, bag bottom is 14" in diameter (36cm), length is 14", strap can be made any length
Needles: Set of 5 size US 4 (3.5mm) double-pointed needles, same size circular needles, or size needed to get correct gauge
Yarn: 2 hanks of Louet Euroflax Sport Weight yarn (each hank in a different color), 100% linen, 270 yards per 100 gram hank
Additional Materials: 4 ring stitch markers, one clippie marker, tapestry needle for weaving in ends
Gauge: 6 stitches per inch in stockinette
The colors I used in my bag: Euroflax Sport in Navy and Caribbean Blue.
Information on things you'll see in this video:
The yarn I used for demonstration is Knit Picks Wool of the Andes Bulky.
The needles I used for demonstration are Knitter's Pride Bamboo.
The ball chain stitch markers can be found here.
The nail polish I'm wearing is by Julep, and isn't actually a color, but I like the way it looks. It's a nail treatment, called Oxygen Nail Treatment. It seems to help my nails grow, and prevents chipping and peeling.