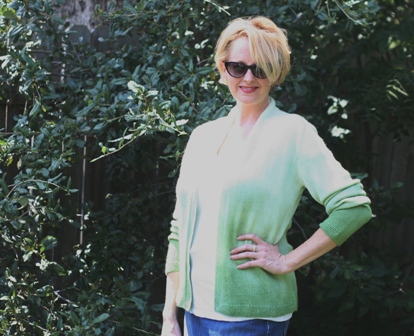 I'm so excited about this sweater! I want it to get cold in Texas so I can wear it now!
In this two-part tutorial, we're going to learn how to do something very unique. We're going to knit this sweater using undyed yarn, then dye it (as a completed garment) to get the Ombré effect. Ombré dyeing gives us a very light color at the top of the sweater, gradually getting darker toward the bottom.
There are two videos to accompany this pattern. In the first video, we talk about making the sweater itself. In the second video, we go on location with my friend Doug Upchurch, at his White Bear Fibers dyeing studio, where he shows us how to do the dyeing. (Both videos are at the bottom of this post.)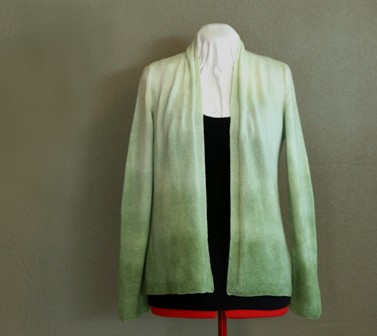 I love the look of this sweater. Not only is the dyeing a fun project on its own, but it gives us an effect you can only get when you dye the finished sweater.
In the dyeing video, we use acid dyes, but any dye that works with yarn will do. Here are three tutorials for using different kitchen-safe dyes: Kool-Aid , Food Coloring, Wilton's Icing Gel.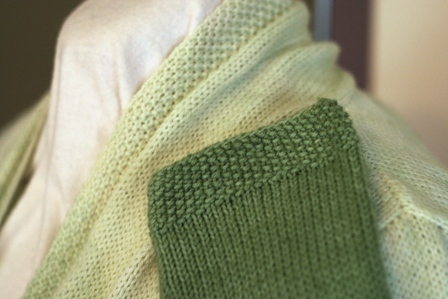 Detail of the lightest part of the sweater (the neckline) next to the darkest (the sleeve cuff).
This is knit with sock yarn for a lightweight sweater with a nice drape. The style of the sweater is simple, to really show off the color gradation as the "thing", or the prominent design feature.
You can, of course, make this sweater using sock-weight yarn that is already dyed. (I'm pretty excited to see what you knitters do with this.) The pattern is sized from XS to 3XL.
Sizes: XSmall, Small, Medium, Large, XLarge, 2XLarge, 3XLarge [to fit actual chest measurements of 28" (32", 36", 40", 44", 48", 52")]
Needles: Size 6 US circular or straight needles
Yarn: Knit Picks Bare Stroll Fingering Sock Yarn, 462 yards/hank, 3 (3, 3, 4, 4, 5, 5) hanks
Additional Materials: stitch marker, tapestry needle, row counter
Gauge: 5.5 stitches and 7.5 rows per inch in stockinette. (Stitch gauge is very important, row gauge is less important. Base your needle size on stitch gauge if you're having difficulty matching both.) Be sure to measure gauge after you've washed and blocked your swatch.
Note on Sizing – The measurements above are for the actual chest measurement of the sweater wearer. The finished sweater includes "ease" for a casual fit. The measurements of the finished sweaters are 32 (36.5, 41, 45, 49.5, 54, 58.5)".
Pattern + links to 4-part instructional videos $8 US via PayPal

Video Part 1 – Making the Sweater:
Video Part 2 – Dyeing the Sweater: