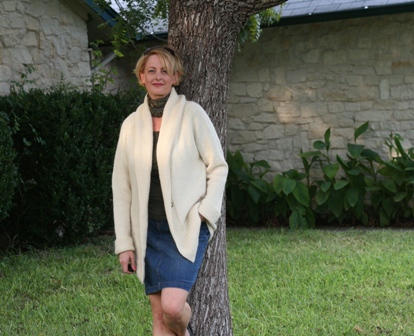 Pronounced ZA-zee-oh.
In this five-part tutorial, we're going to learn to make this sweater – err, coat – if you live in a warm place, like I do.
This is a top-down raglan sweater. There are two huge advantages to knitting this style. First, no seaming. Second, you can try the sweater on while you're knitting it, so you can be sure that you'll have a perfect fit when you're finished.
In this tutorial we cover working raglan increases, separating the sleeves, using the magic loop method to knit the sleeves, how to ensure a good fit, working tidy seed stitch, picking up and knitting the short-row collar, working the buttonhole, and more.
I'm going to say this is an intermediate pattern. You need to be comfortable with knitting, purling, and basic pattern reading. You don't need prior sweater knitting experience – you just need to be comfortable with the basics of knitting. Everything else is covered in the video. You can view the video at the bottom of this post.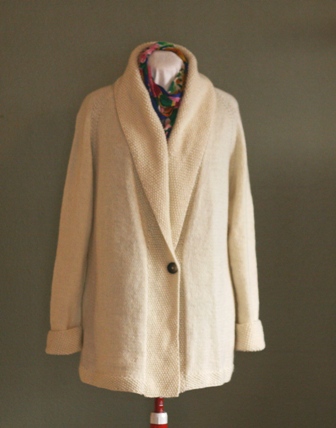 Sizes: XSmall, Small, Medium, Large, XLarge, 2XLarge, 3XLarge [to fit actual bust measurements of 28" (32", 36", 40", 44", 48", 52")] PLEASE READ NOTES ON SIZING BELOW
Needles: Size 7 US 32" circular needle
Yarn: any worsted-weight wool or wool blend, 1010 (1150, 1300, 1440, 1600, 1730, 1880) yards
Additional Materials: One 1 1/8" button, four stitch markers, tapestry needle, row counter, scrap yarn
Gauge: 20 stitches and 25 rows over 4" in stockinette. (Stitch gauge is very important, row gauge is less important. Base your needle size on stitch gauge if you're having difficulty matching both.) Be sure to measure gauge after you've washed and blocked your swatch.
Notes on Sizing – The measurements above are for the actual bust measurement of the sweater wearer. The finished sweater includes "ease" for a casual fit. The measurements of the finished sweaters are 32 (36, 40.5, 44, 49.5, 53, 56)". Additionally, this sweater is a straight fit (with no shaping), therefore the bust and hip measurements are the same. For a good fit, you should choose the size that fits whichever measurement is greater – either your bust or your hips.
Pattern + links to 5-part instructional videos $8 US via PayPal

And the video:

Information on things you'll see in this video:
The sweater I'm wearing is my Ombre Dyed Sweater.
The ball-chain stitch markers I use are from Rycrafty.
The nail color I'm wearing is by OPI, called "Nein! Nein! Nein! OK, Fine!"
My watch ring is made by Davis.
Sorry – I don't know the yarn I'm using in the sample. But the needles I'm using are Addi Turbos.
If you've made it this far in the post and you want to know the origin of the name, ask me. I'll explain in the comments. I expect that some people have already figured it out. Yay!