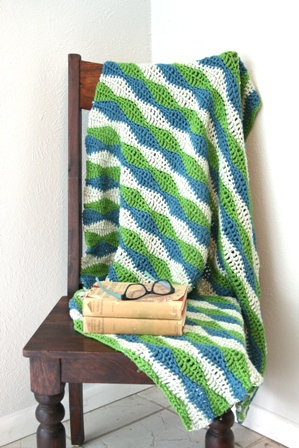 Size: 42 x 35 inches (or desired size)
Hook: Size I (5.5mm)
Yarn: Worsted weight, in as many colors as you choose, about 1260 yards total
Additional Materials: tapestry needle for weaving in ends
CLICK HERE to visit Ravelry for your free copy of the pattern.
This pattern is designed by Stephanie Gauge. You can see her yarn here at Spinning Colors.
And her photography site, Stephanie Gage Photography.
And her other patterns on Ravelry.
Please keep in mind that the crochet terms I use in this video are American. Visit this website to see a chart detailing the differences between American and British crochet terms.
Information on things you'll see in this video:
The yarn I use for demonstration is Knit Picks Wool of the Andes Bulky, in colors Yonder and Crush.
The large crochet hook I used for demonstration is size K hook made by Susan Bates.
The yarn I used in my finished blanket is Knit Picks Comfy Worsted, held double stranded, in colors Marlin, Silver, and Peapod (7 skeins in each color) worked with a size K hook.
The pattern for the sweater I'm wearing (not my design, in a discontinued cotton yarn) can be found here.
Red and white sample is crocheted with Cascade Arcadia (discontinued), and a size G hook.
Gray and purple sample is crocheted with Knit Picks Wool of the Andes Bulky in colors Silver and Jam, using a size J hook.
The sample in baby colors is crocheted with Knit Picks Brava in colors Mint, Blush, and Sky, using a size H hook.
The sample using leftover yarns is made from various 100% wool yarns and a size H hook.
The nail polish I'm wearing is Julep, color "Maddy".