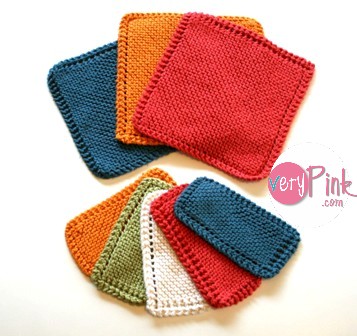 My free Learn to Knit a Dishcloth pattern + video tutorial has received a much-requested update. This update includes instructions for making rectangular dishcloths, any size.
Now, they're all called "dishcloths", regardless of the shape or size you make them. But I personally find the 9 x 9″ squares too big for washing dishes. Instead, I use them for tasks where I would otherwise use a paper towel – like wiping down counters, spill clean-ups, etc.
The 6 x 3″ rectangles in this pattern update are the size I like to use for washing dishes. They fit nicely in the hand, drape easily over the sink divider when not in use, and they dry quickly. The pattern explains exactly how to make this size, but it can be easily modified to make any size rectangle – up to a bath towel size, and beyond.
This pattern is a FREE RAVELRY DOWNLOAD.
The video tutorial will walk you through making the square dishcloth, but the techniques are exactly the same for the rectangles.